The country's largest roving sale event of premium lifestyle brands, The Off Price Show, is heading back to Cebu for a 3 day shopping event where all items are on sale up to 80% discount. The Off Price Show in Cebu will be held on March 18-20 at the Oakridge Pavillion, Oakridge Business Park, Mandaue City. Top global brands such as Forever21, Mango, Tommy Hilfiger Eyewear, Pacsafe, Bershka, Adidas Bodycare, Palladium, Hellolulu, Pull & Bear, VNC, Jockey and a whole lot more will be on sale during the event at a discounted price that is hard to resist.
There will also be a Banchetto during the event for the foodies which comprised of Cebu's best and well-known restaurants just right outside the convention center.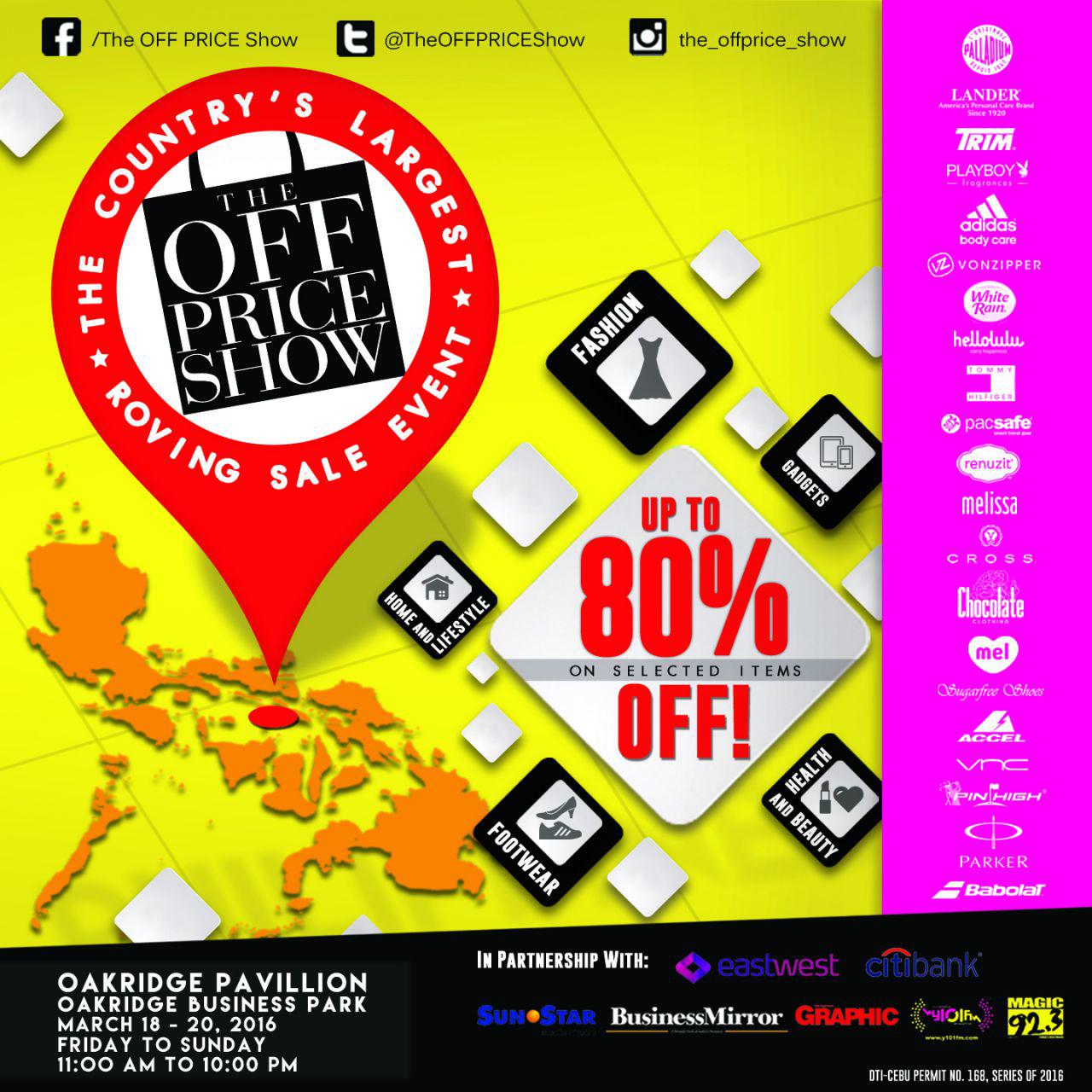 The Off Price Show was established in 2012 and is the first roving sale concept in the Philippines that features top lifestyle brands from around the globe.
Guests of The Off Price Show Cebu 2016 will have a chance to win shopping spree and different products from participating brands hourly through a raffle draw. And for those who love taking selfies, join their contest by uploading your selfies (taken while in the event) on Instagram, use the hashtag #theoffpriceshowph and encourage your friends to visit The Off Price Show. 5 lucky winners will win a shopping spree daily.
Besides Cebu City, the Off Price Show will also be visiting the following cities:
May 27 – 29, 2016 : The Avenue Plaza Tent, Naga Camarines Sur
July 15 – 17, 2016 : The Filinvest Tent, Alabang Muntinlupa
September 2 – 4, 2016 : Davao Convention and Trade Center
September 16 – 18, 2016 : Luxe Hotel, Cagayan De Oro
October 14 – 16, 2016 : World Trade Center Tent, Pasay
November 18 – 20, 2016 : Megatent Libis, Quezon City
The Off Price Show Cebu 2016 will be open from 11:00 AM up until 10:00 PM. All major credit cards will be accepted for purchases made during the 3-day expo sale.
For more details:
Facebook : www.facebook.com/TheOFFPRICEShow/
Instagram : the_offprice_show
Twitter : @TheOFFPRICEShow
Website : theoffpriceshow.ph