Here's a sample one day walking itinerary around Seoul. One of the good things about Seoul is that tourist spots are mostly walking distance away from each other. I wrote this sample walking tour itinerary that you can follow. So prepare those walking shoes and let's get started.
1. Bukchon Hanok Village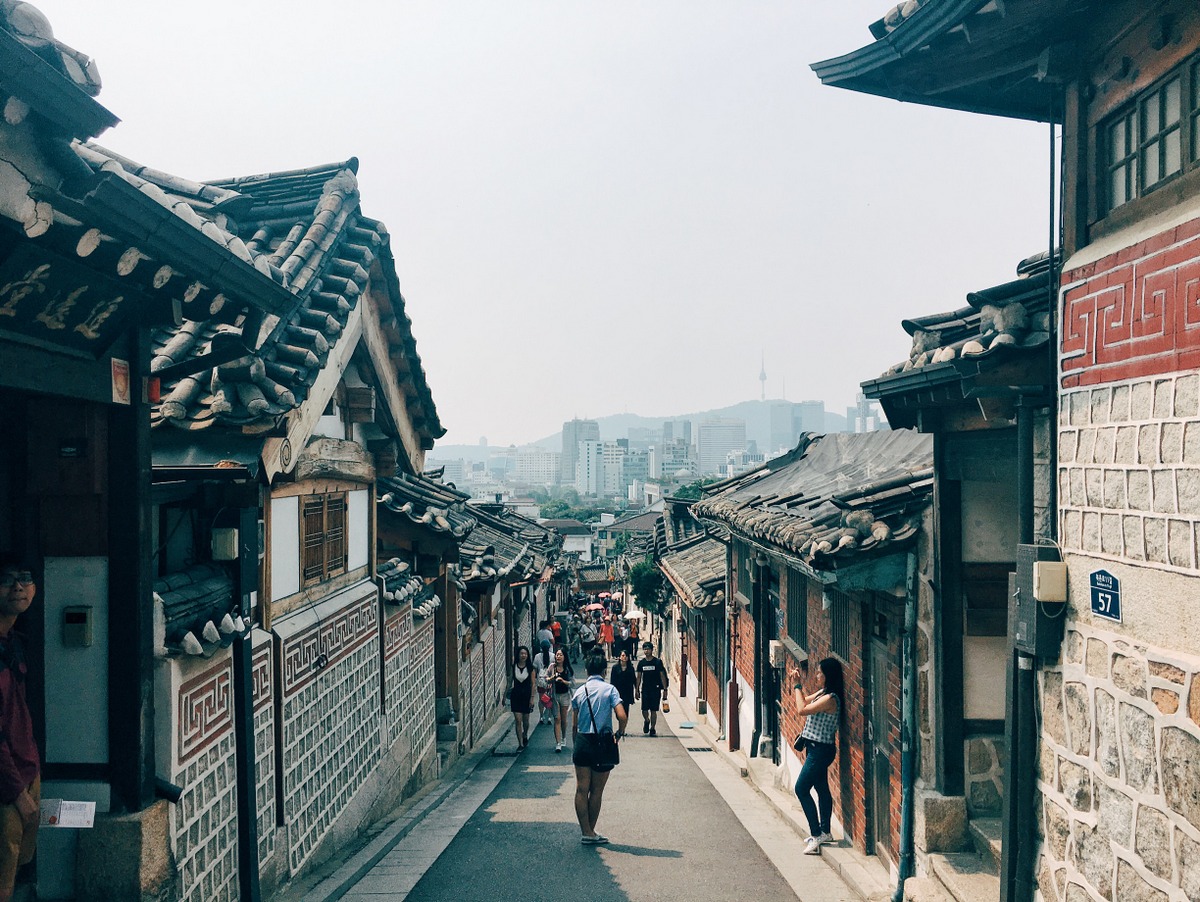 Start your day at Bukchon Hanok Village, a popular destination to see some traditional Korean houses, called hanok. In the Joseon Period, the village housed the members of the royal family and aristocrats. Visitors are requested to keep quiet as it is still a residential area. Bukchon Hanok Village is also home to cafes, souvenir shops, restaurants and guest houses. Some houses even offer Korean tradition experience to tourists.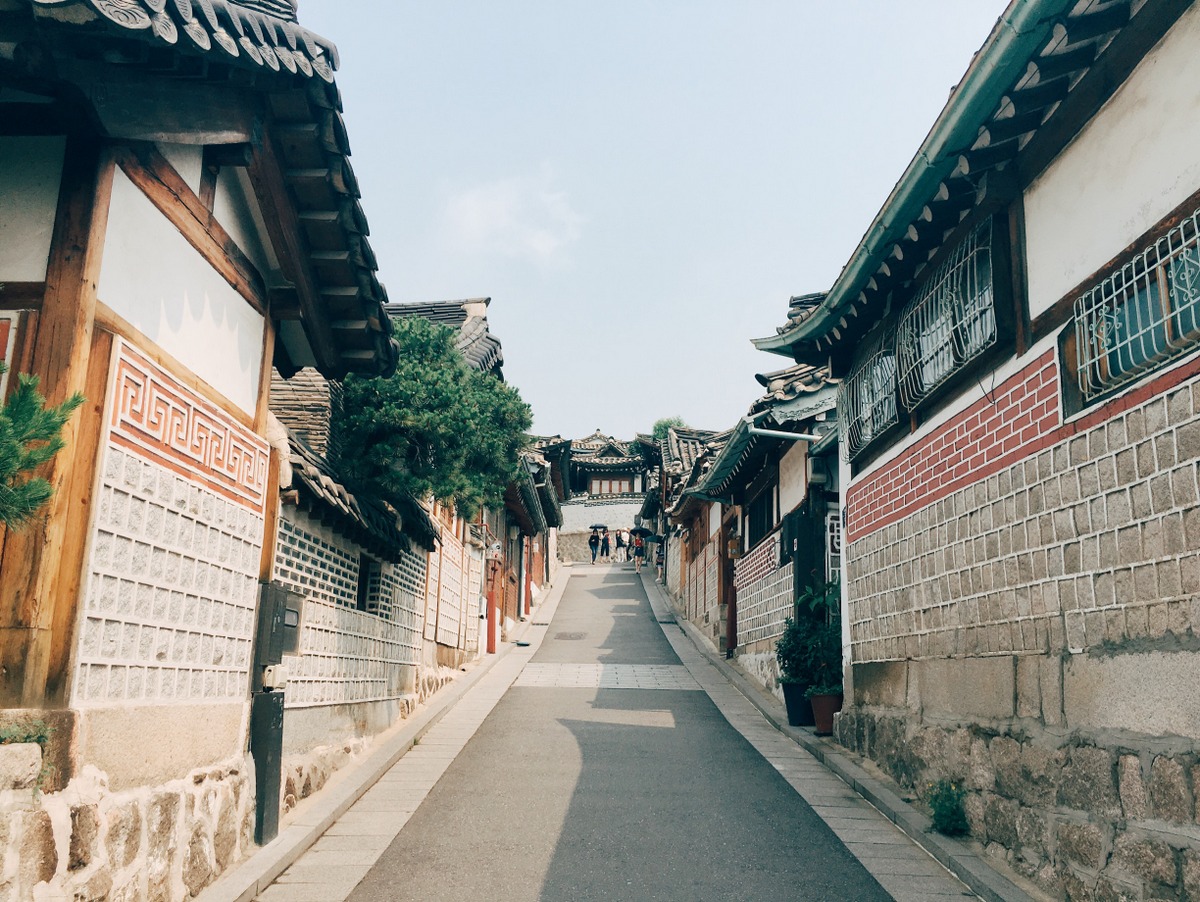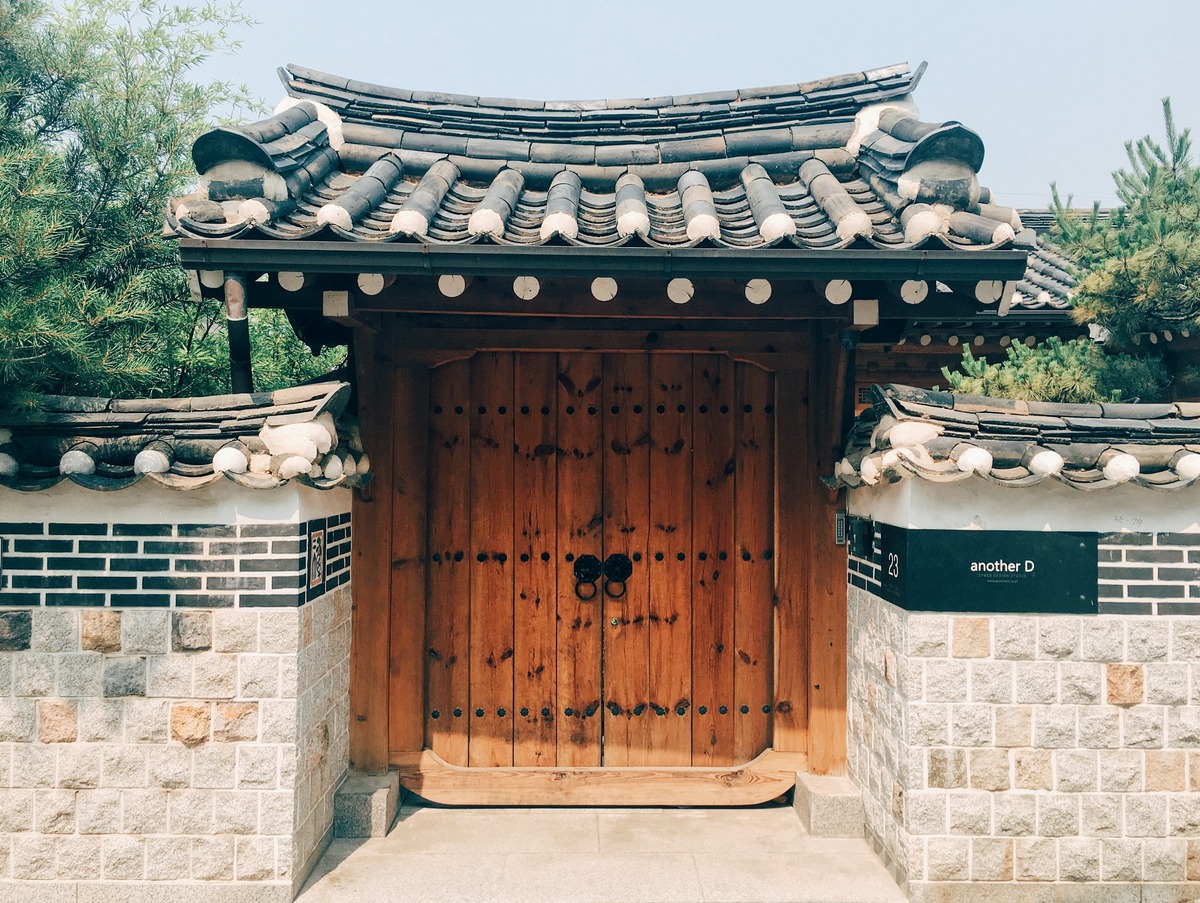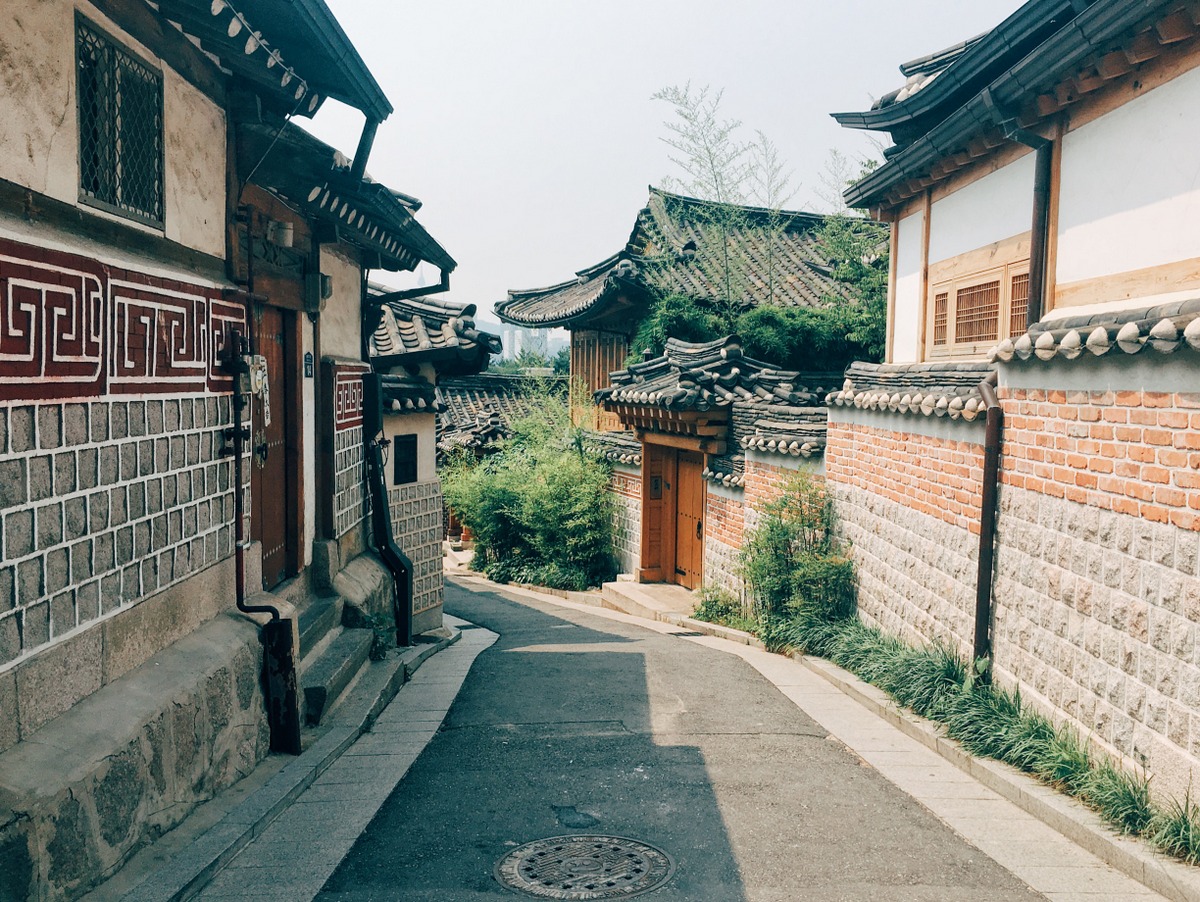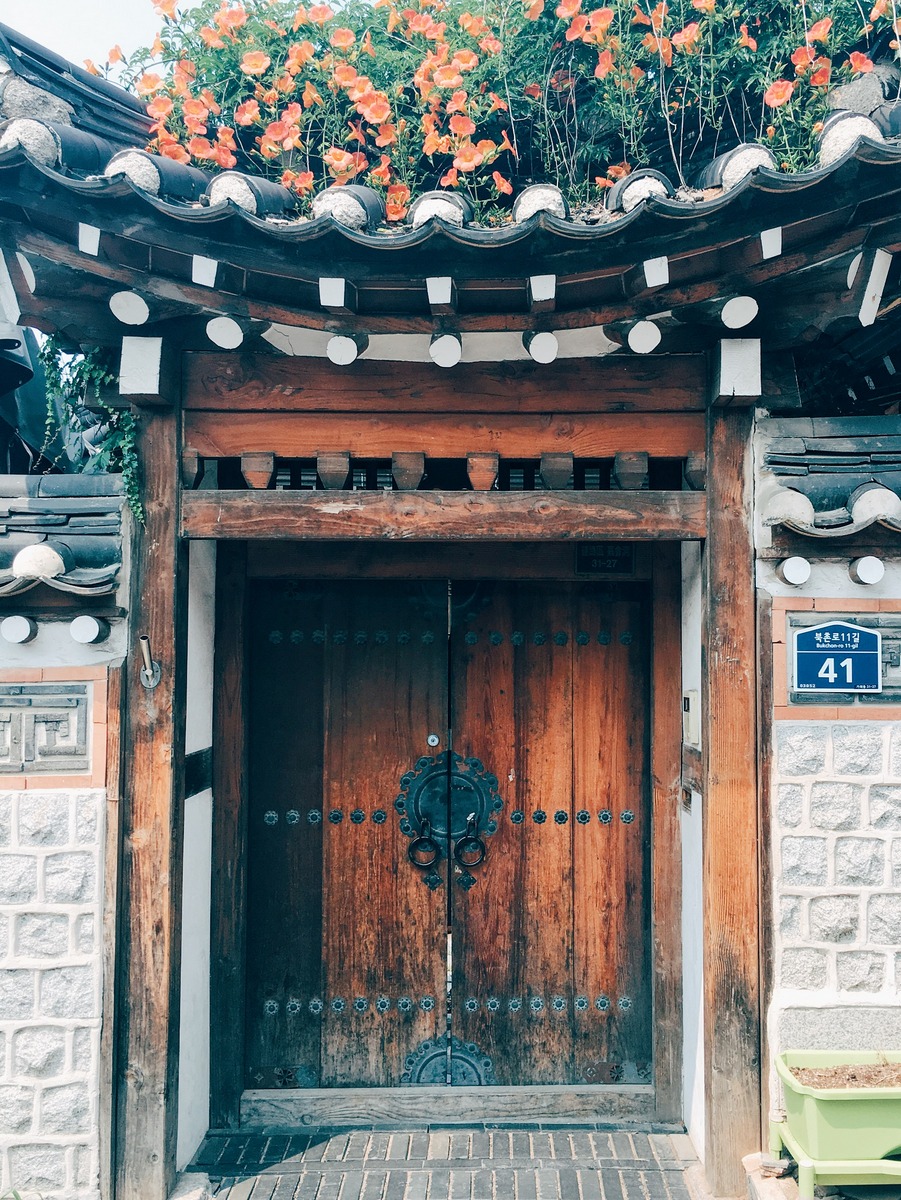 How to get there:
Anguk Station (Seoul Subway Line 3), Exit 2
2. Gyeongbokgung Palace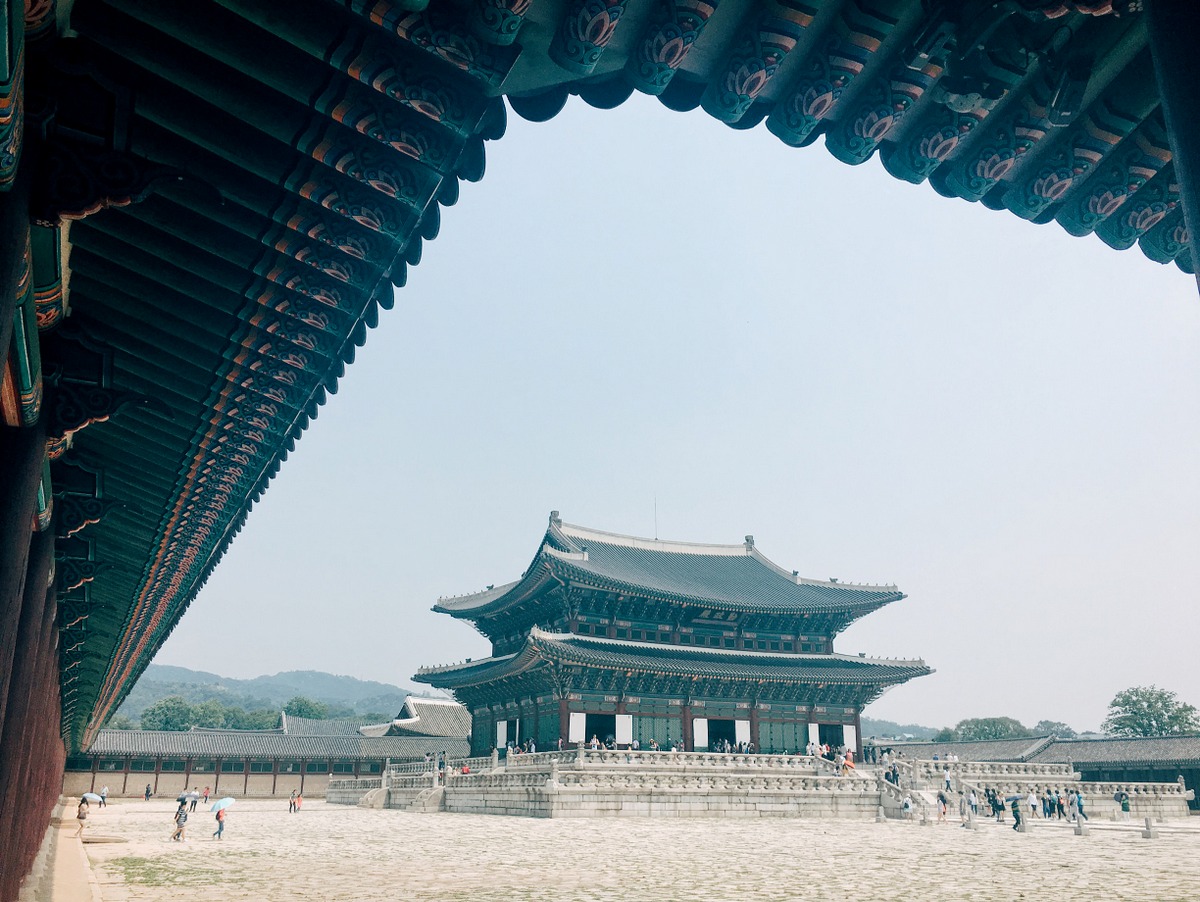 Gyeongbokgung Palace was built in 1395 during the Joseon Dynasty. It is the largest of all five palaces found in Seoul. Most of the palace buildings were destroyed during the Japanese invasions, but were later restored during the reign of King Gojong. Gyeongbokgung Palace features Joseon's royal culture and architecture through the Geunjeongjeon and other buildings. The palace grounds also houses the National Folk Museum of Korea and National Palace Museum.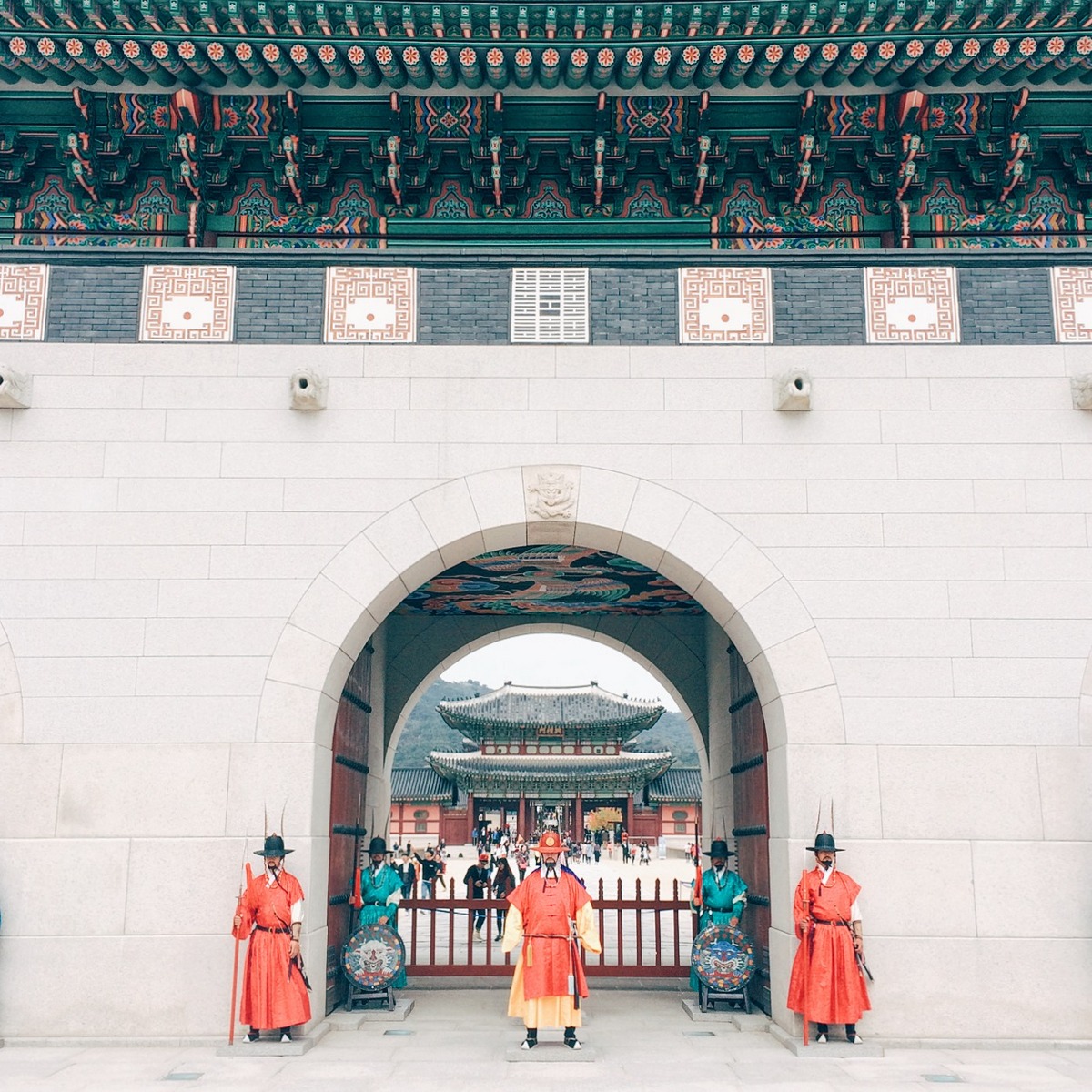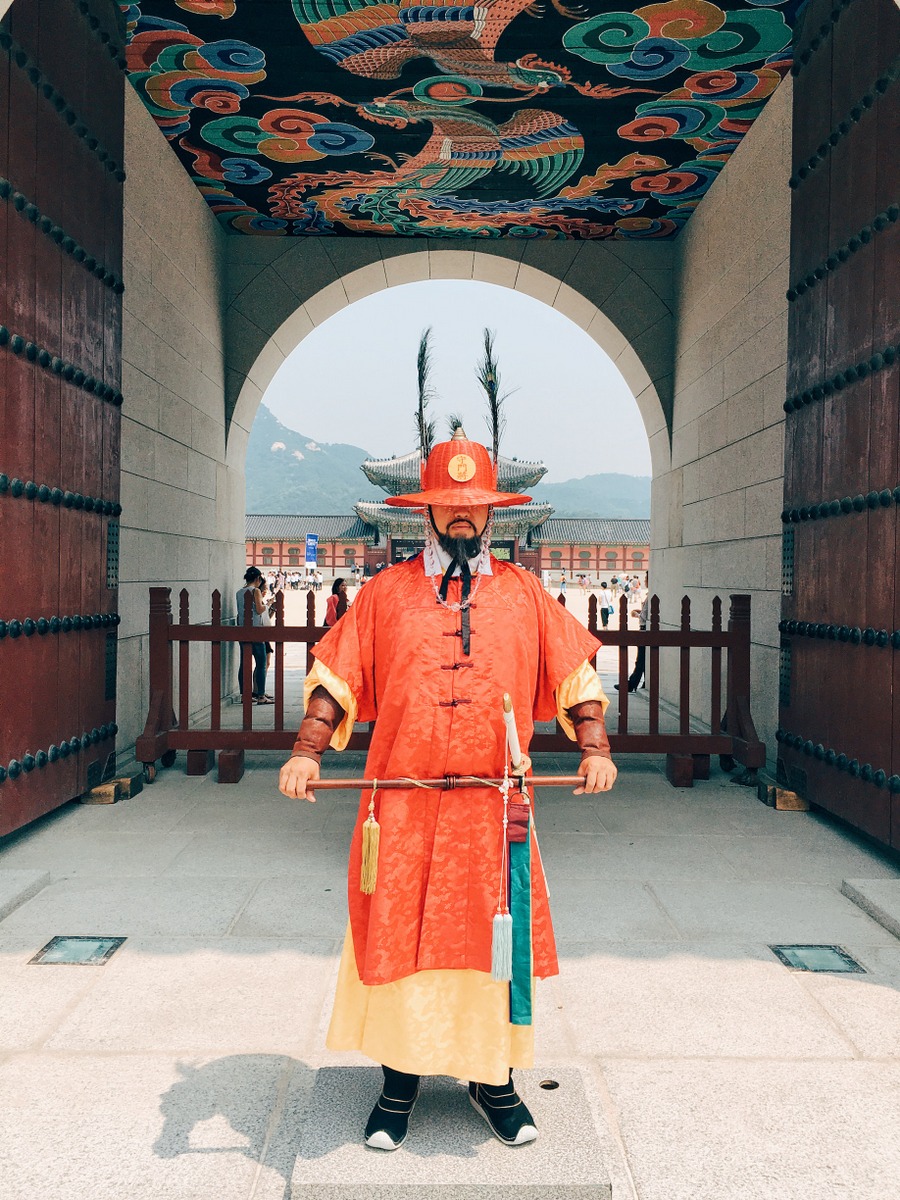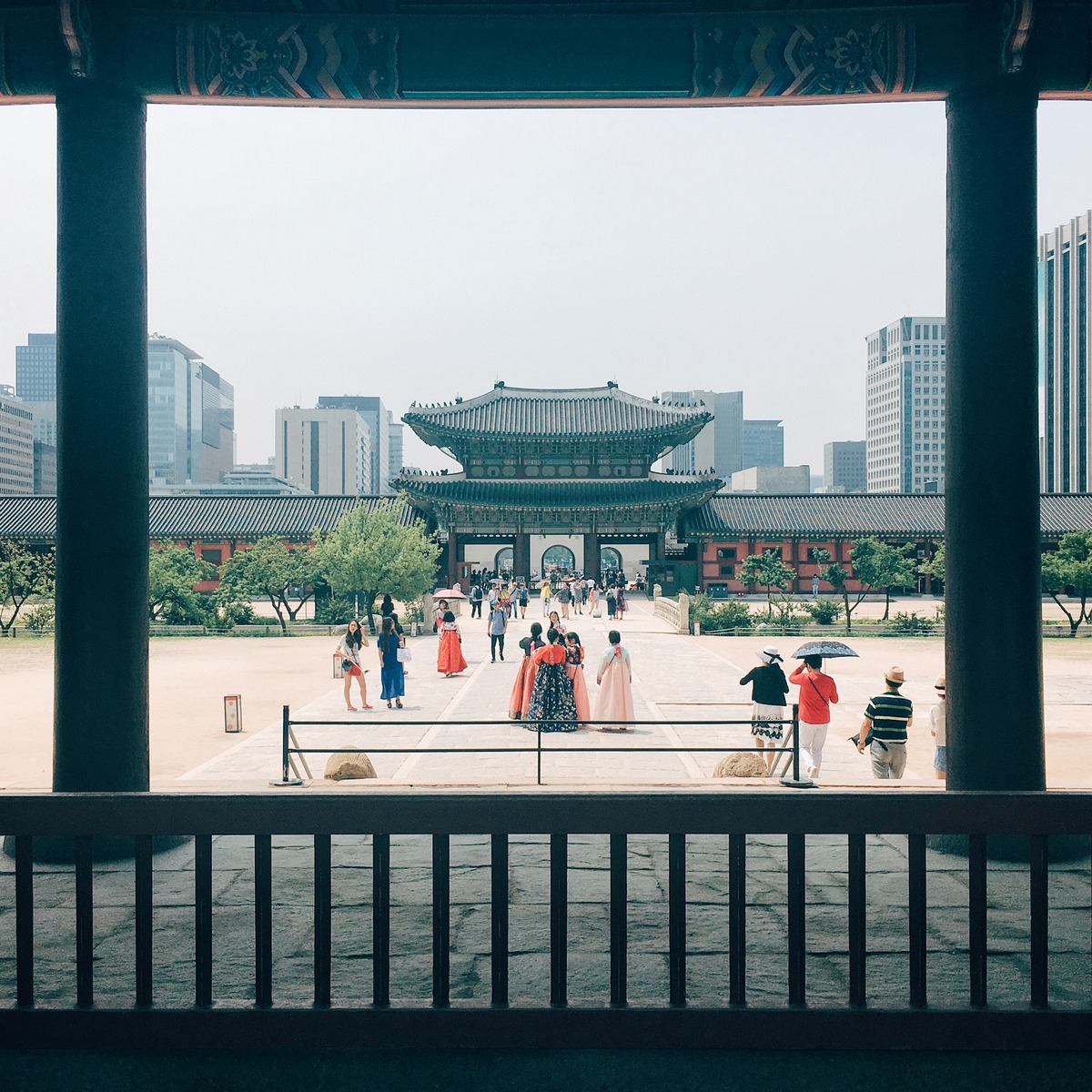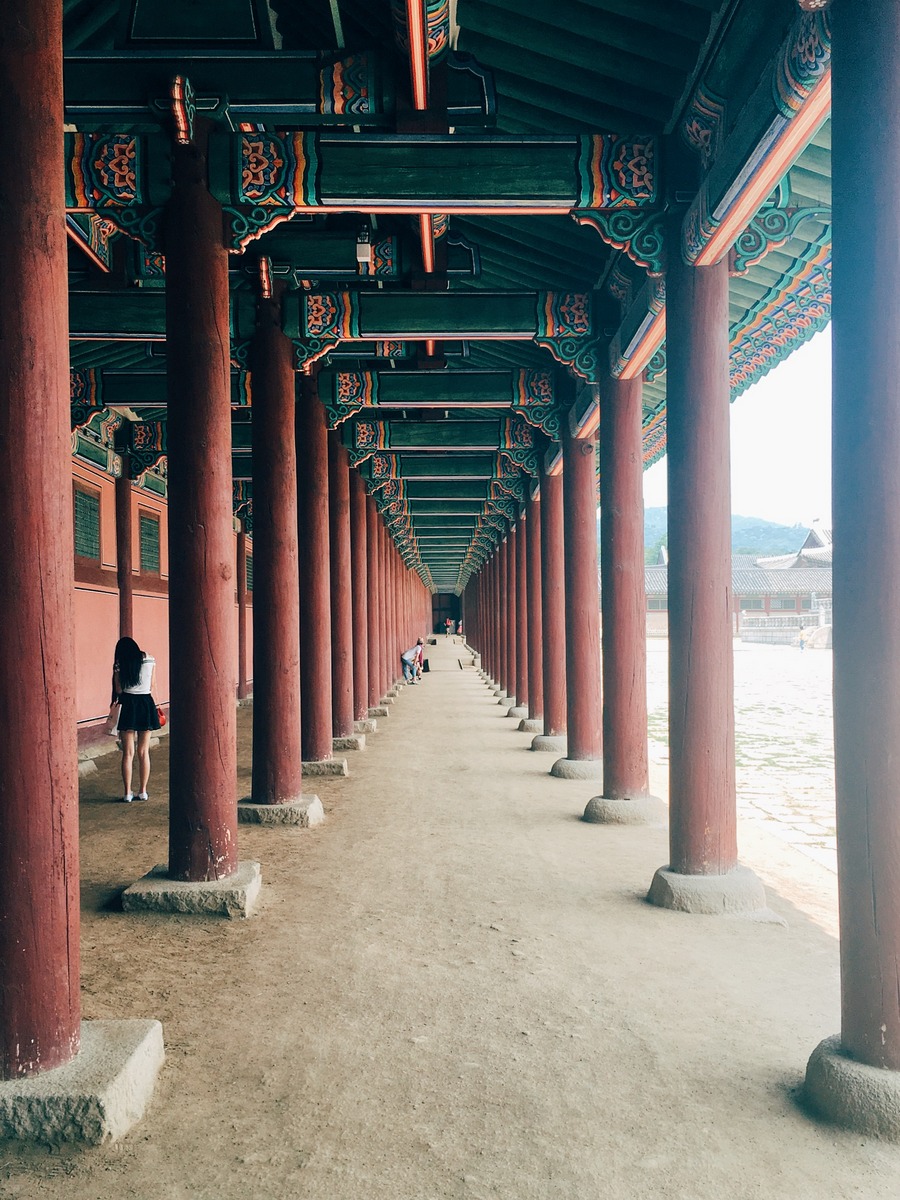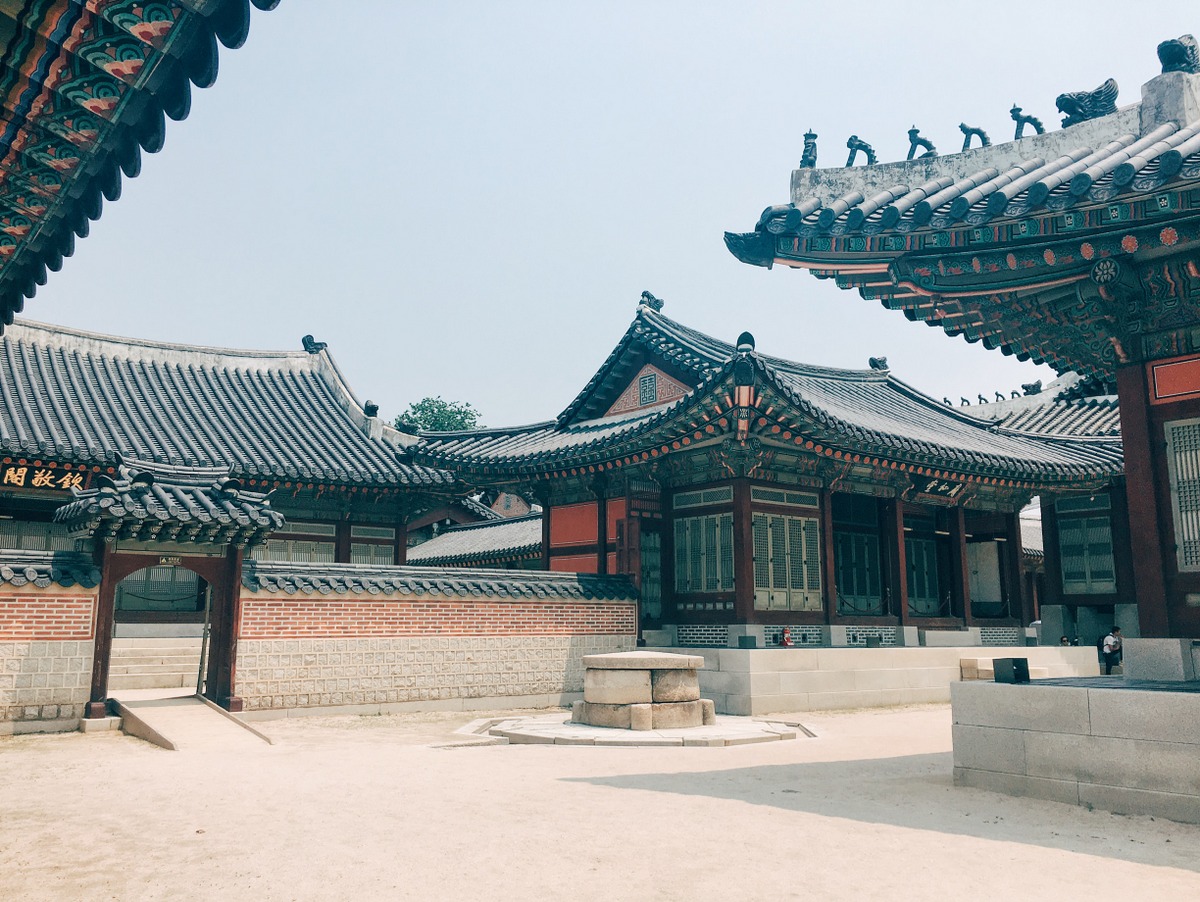 How to get there:
From Bukchon Hanok Village, walk down to Bukchon-ro 5-gil street, turn right and walk another few meters to Samcheong-ro street, turn left and walk towards the main road, turn right and walk to the main entrance of Gyeongbokgung Palace.
At the main entrance, you can watch the Gwanghwamun Changing of Guards ceremony at 11am, 2pm and 4pm.
Entrance
Adult: 3000 Won
Youth: 1500 Won
Schedule: 9am to 6pm / Closed on Tuesdays
3. Where to eat lunch: Tosokchon Samgyetang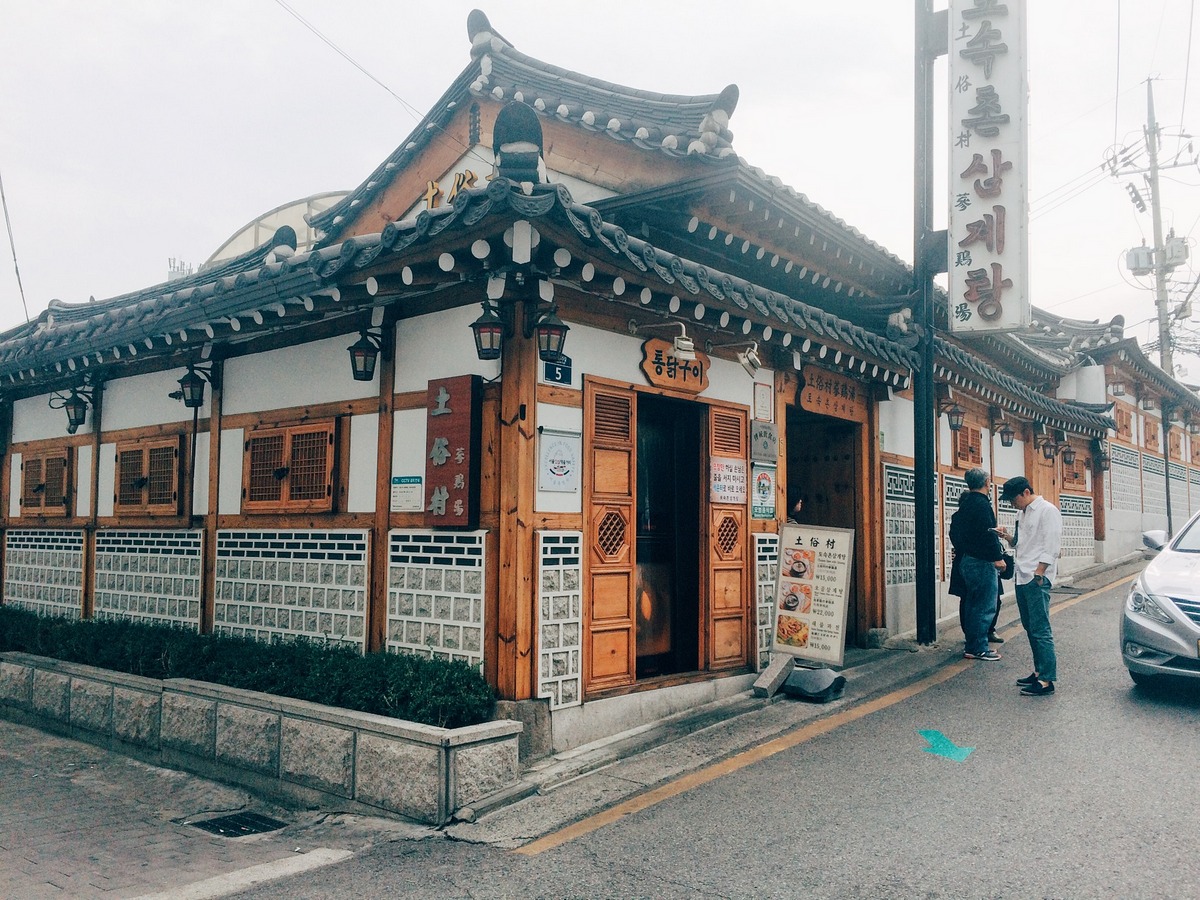 Samgyetang or Chicken Ginseng Soup is a traditional Korea dish made of chicken stuffed with Korean ginseng, sweet rice, Korean dates and medicinal herbs served in a boiling pot. Tosokchon is very popular to tourist and only a few blocks away from Gyeongbokgung Palace. I recommend going before or after lunch as the line can get really long during lunch time.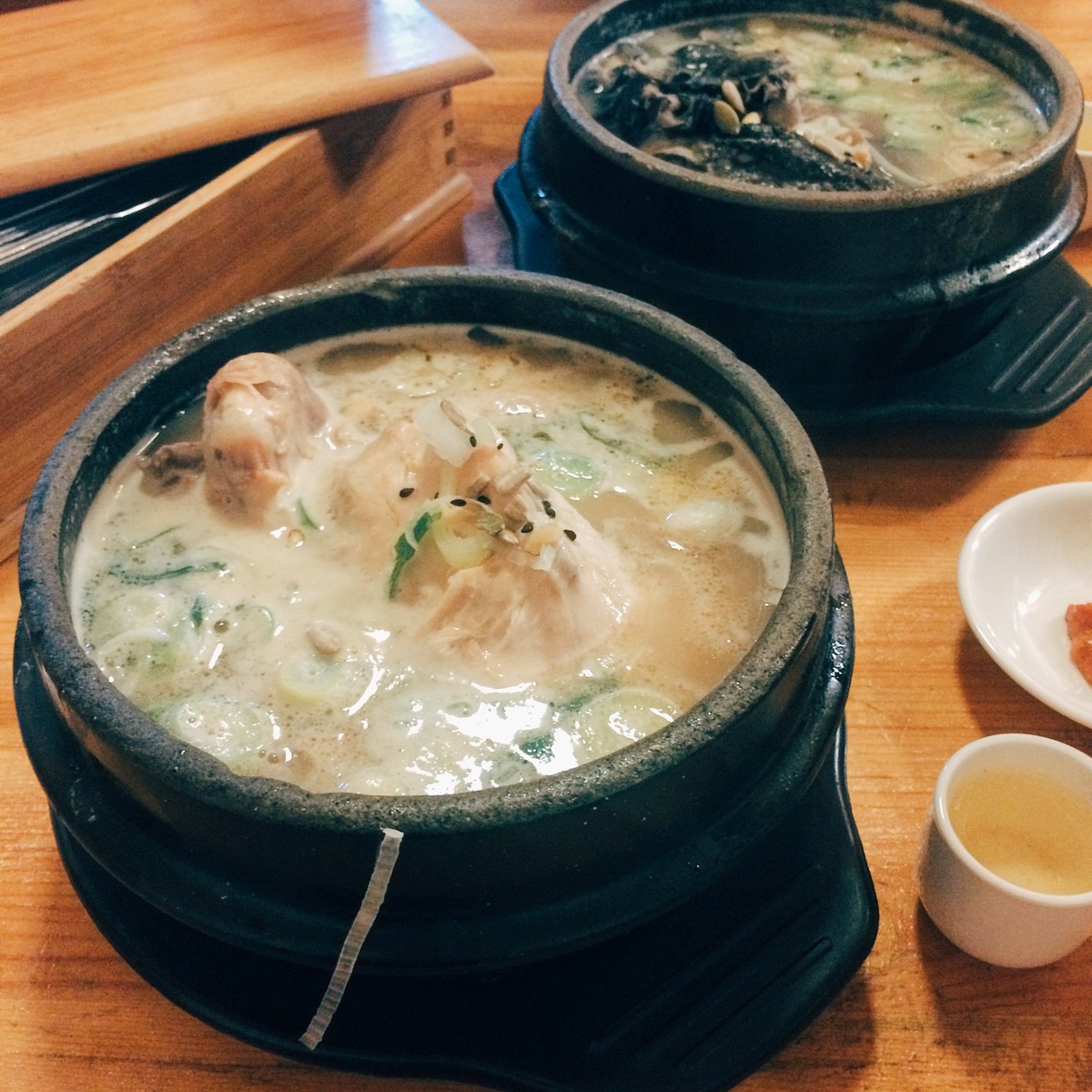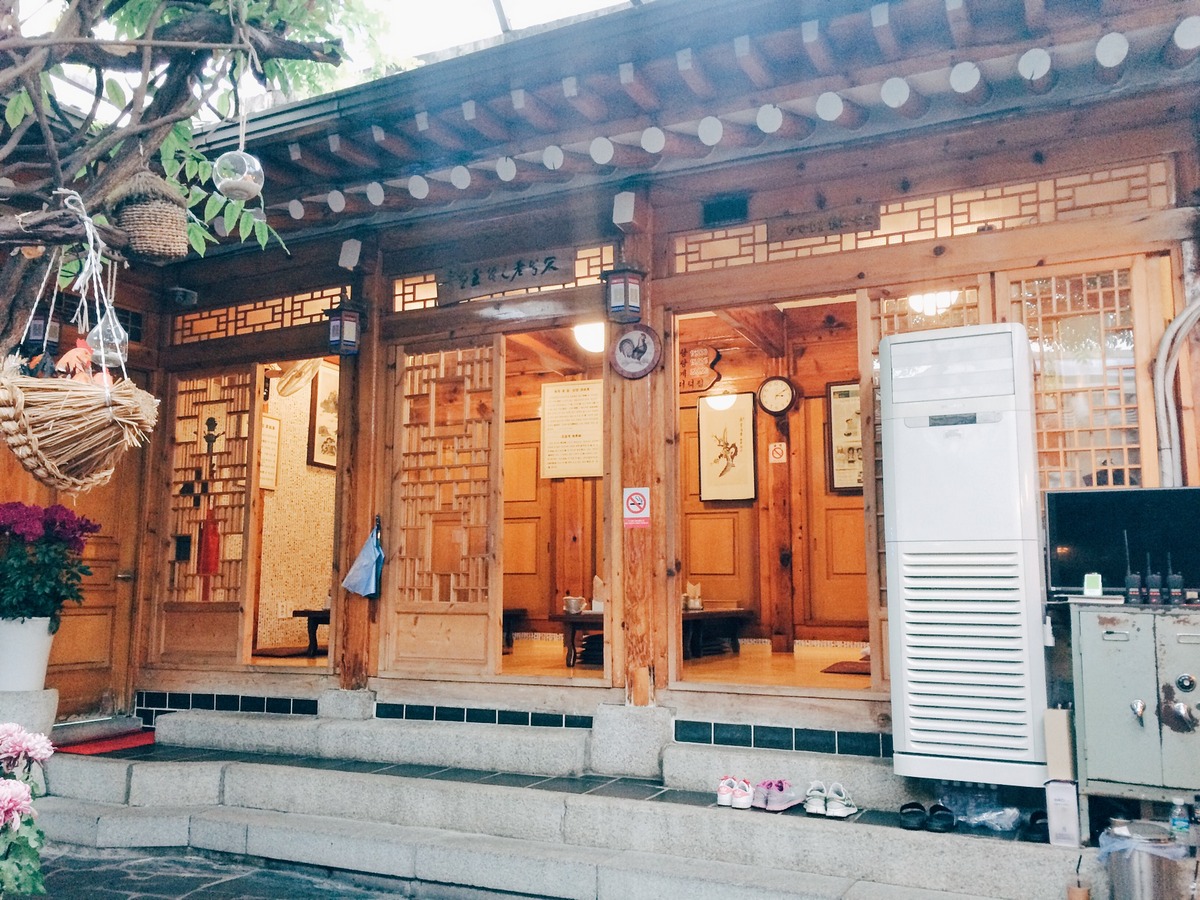 How to get there:
From Gyeongbokgung Palace main entrance, walk 1 block along Sajik-ro street to your right then turn right to Jahamun-ro street and walk some few meters then turn left to Jahamun-ro 5-gil street.
4. Gwanghwamun Square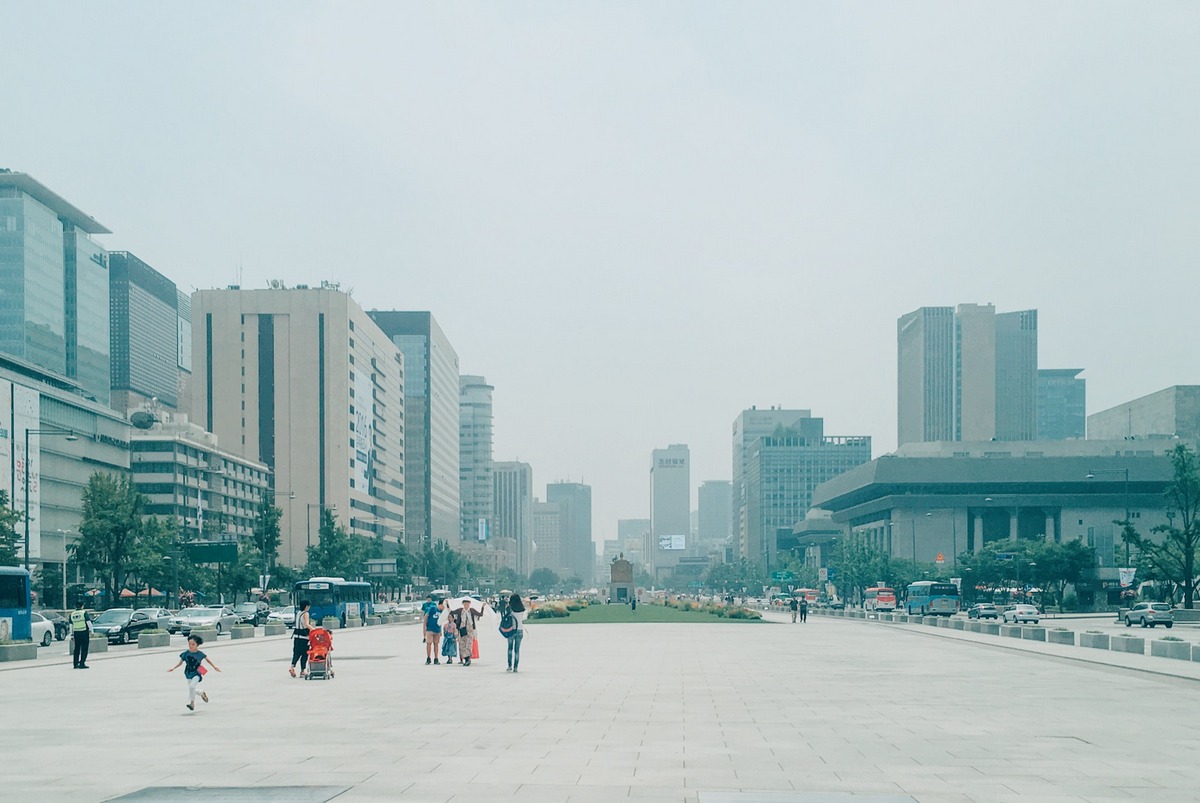 The square is located in front of Gwanghwamun, the main gate of Gyeongbokgung Palace. The statues of Admiral Yi Sun-Shin and King Sejong are located at Gwanghwamun Square. During summer, children can also enjoy the fountains in the square.
How to get there:
From Tosokchon Samgyetang, walk back to the main entrance of Gyeongbokgung Palace.
5. Cheonggyecheon Stream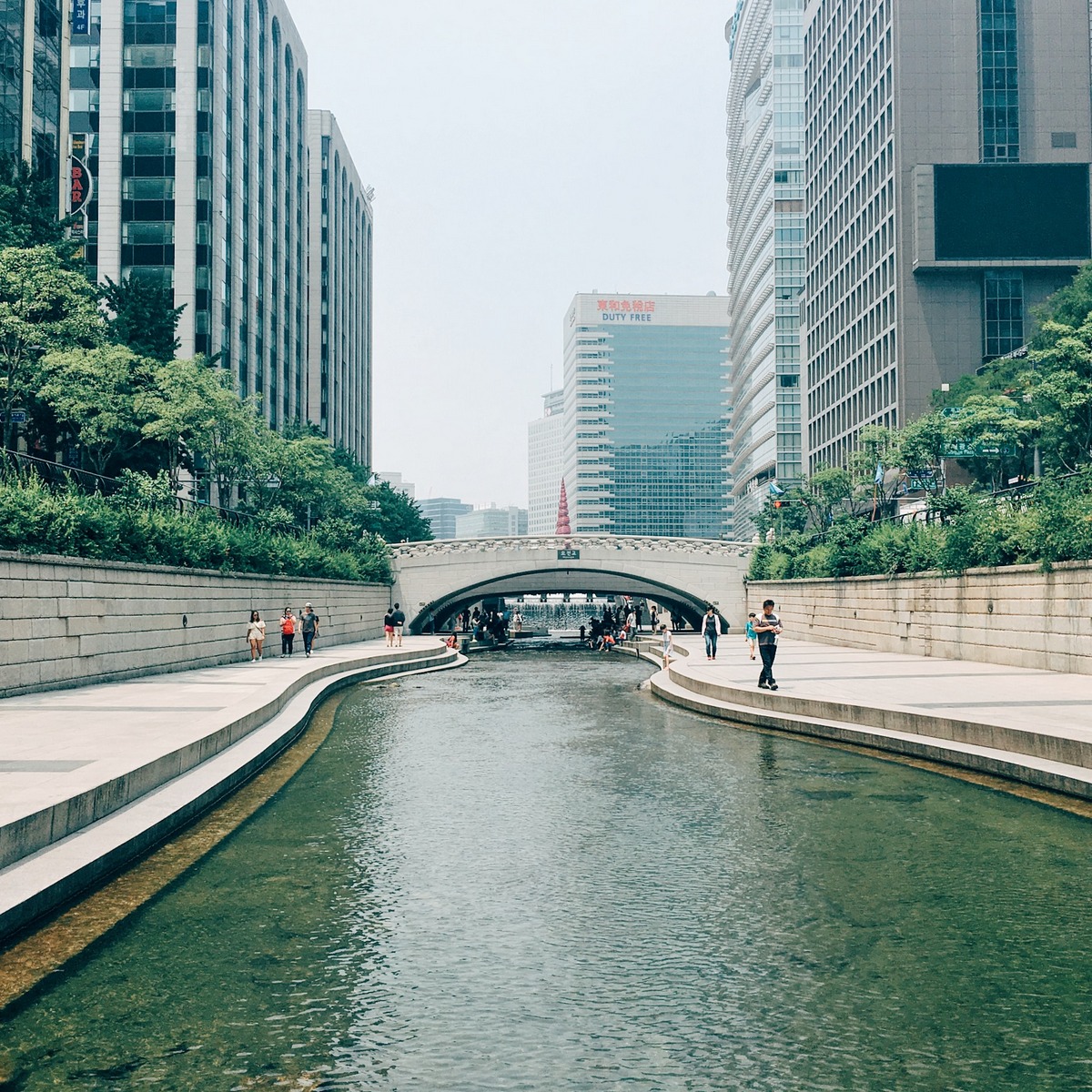 In 2005, this stream was cleaned and transformed into a park where locals and tourists can enjoy a stroll along the walking path. Cheonggyecheon is a 10.84km long stream flowing from Gwanghwamun Gate to Dongdaemun.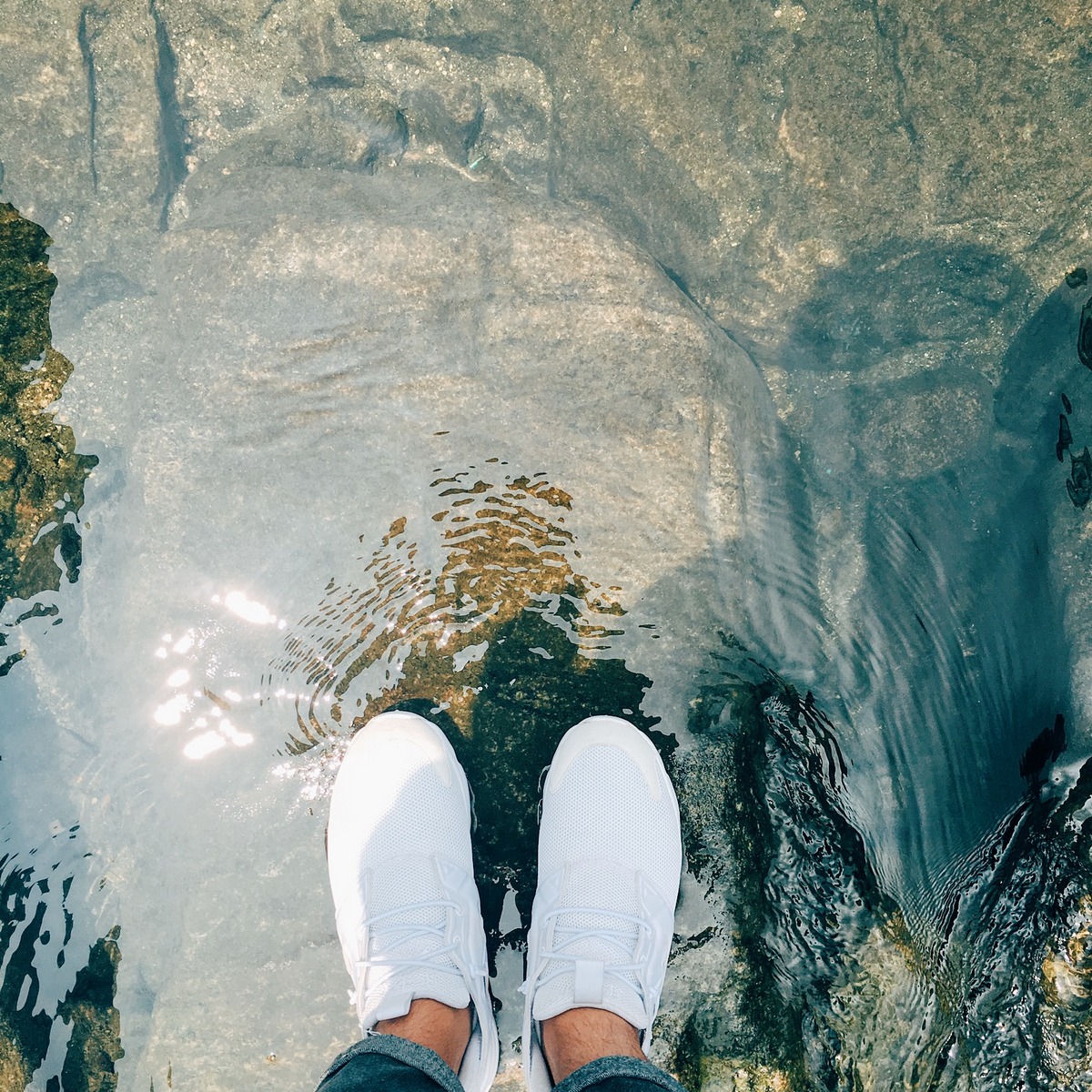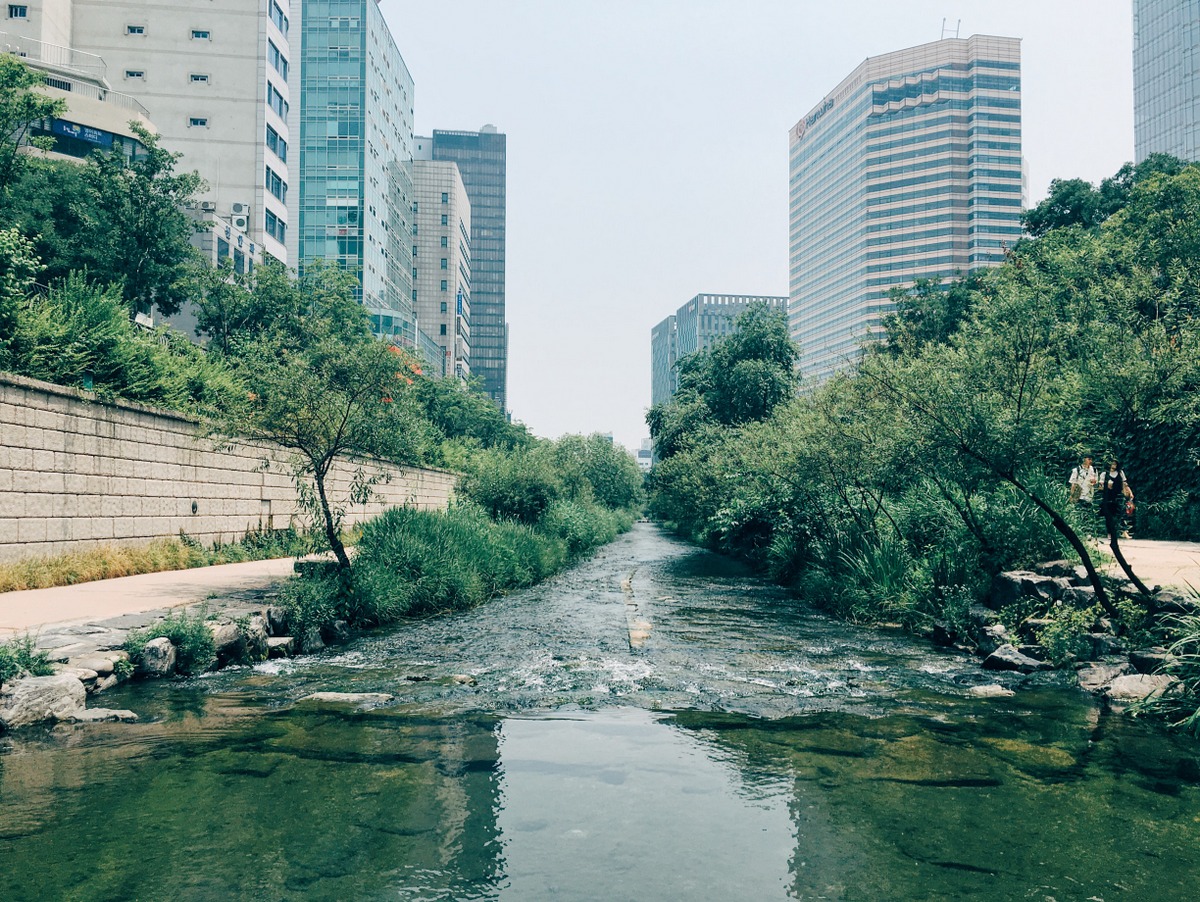 How to get there:
Walk towards the end Gwanghwamun Square, the stream is located to the left.
6. Seoul City Hall/Seoul Metropolitan Library/Seoul Plaza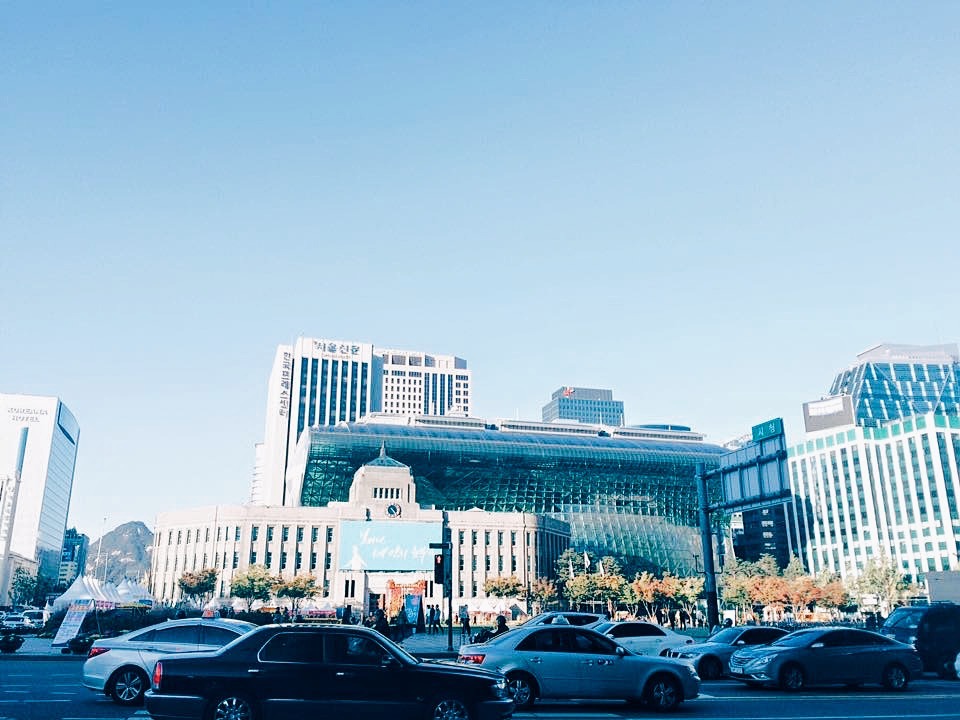 The new Seoul City Hall was built in 2013 and since then become Seoul's newest landmark because of its modern architecture. It also houses the world's largest indoor green wall.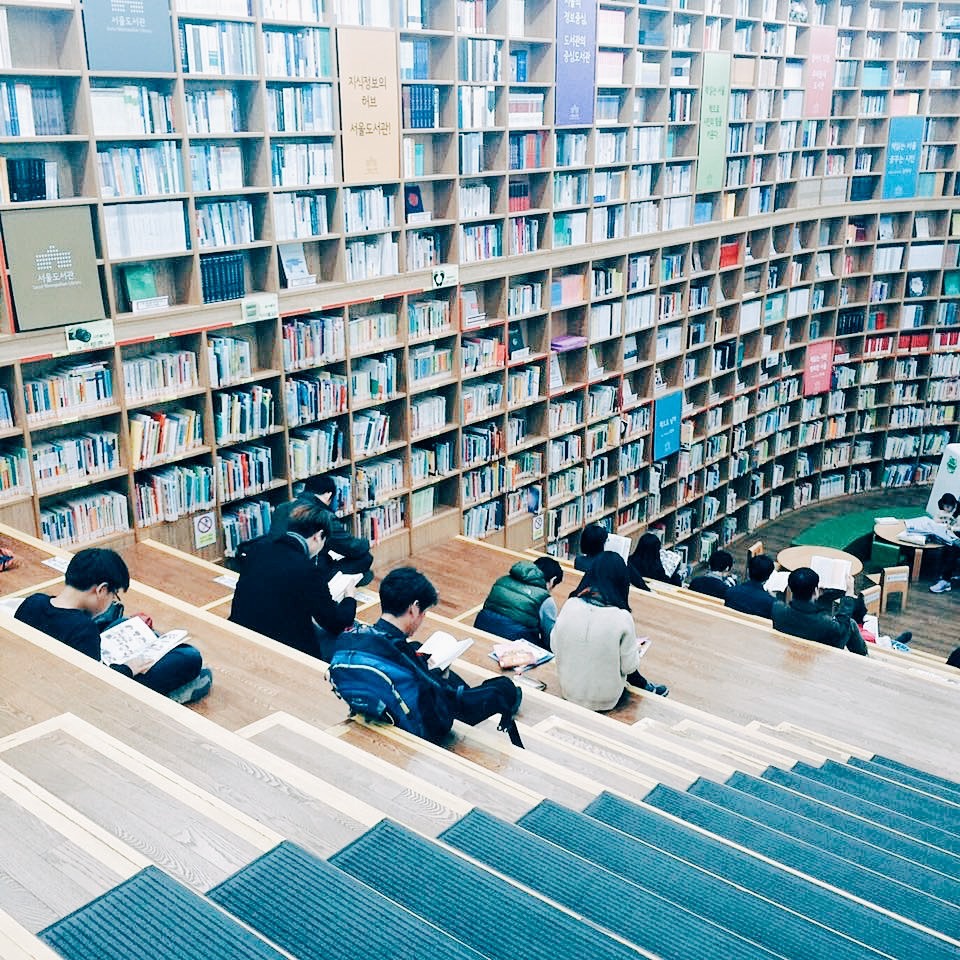 Seoul Metropolitan Library was the former Seoul City Hall, it was transformed into a library open to everyone. Here's a tip, you can go to the rooftop for a good view of the surrounding buildings.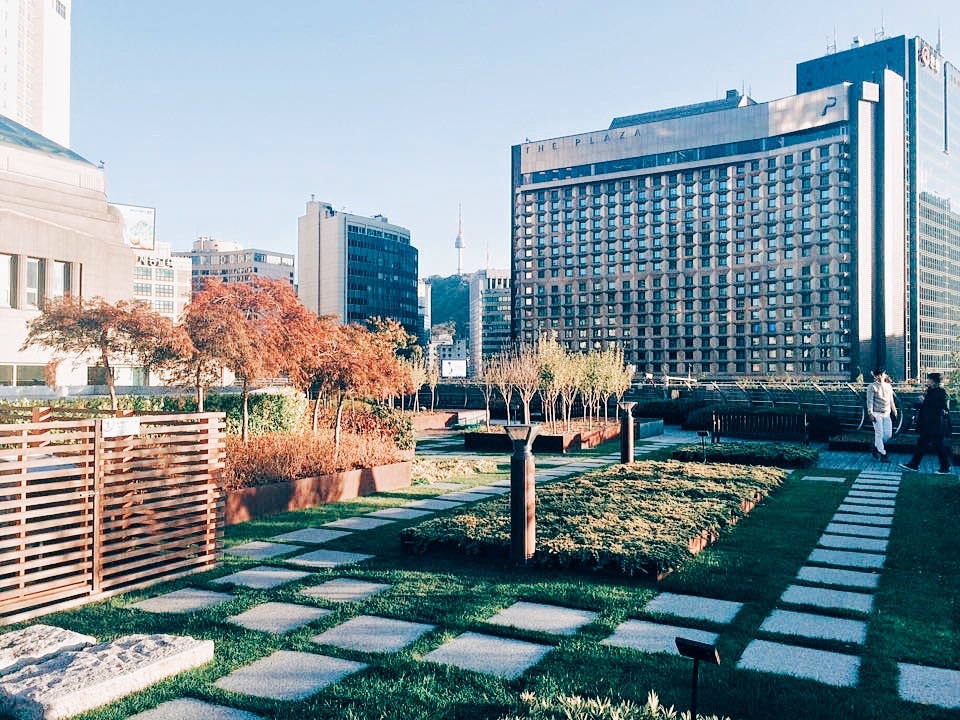 Seoul Plaza is an open grass area in front of Seoul City Hall and Seoul Metropolitan Library where various events like concerts, exhibitions and flea markets are being held. During winter, an ice skating rink is setup for visitors to enjoy.
How to get there:
From Cheonggyecheon Stream, walk back up to Sejong-daero street, the Seoul City Hall is located just few blocks from the stream.
Tip: You can also visit Deoksugung Palace located to the right of Seoul Plaza if you still have free time.
7. Sungnyemun Gate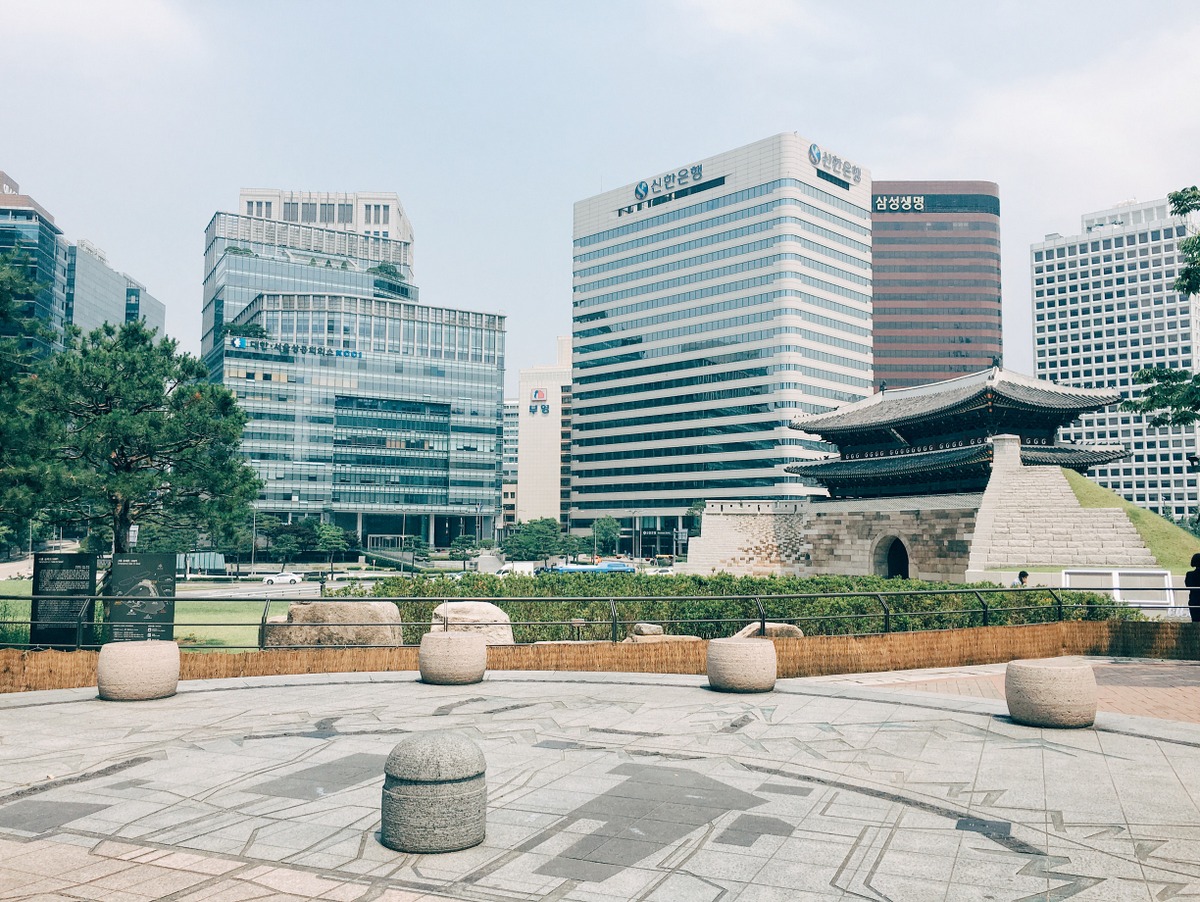 Sungnyemun Gate is Korea's National Treasure No. 1 which served as the southern entrance of the Seoul City Wall. It was damaged by fire few years ago and it was successfully restored to its original form in 2013.
How to get there:
From Seoul Plaza, walk few meters along Sejong-daero street.
8. Namdaemun Market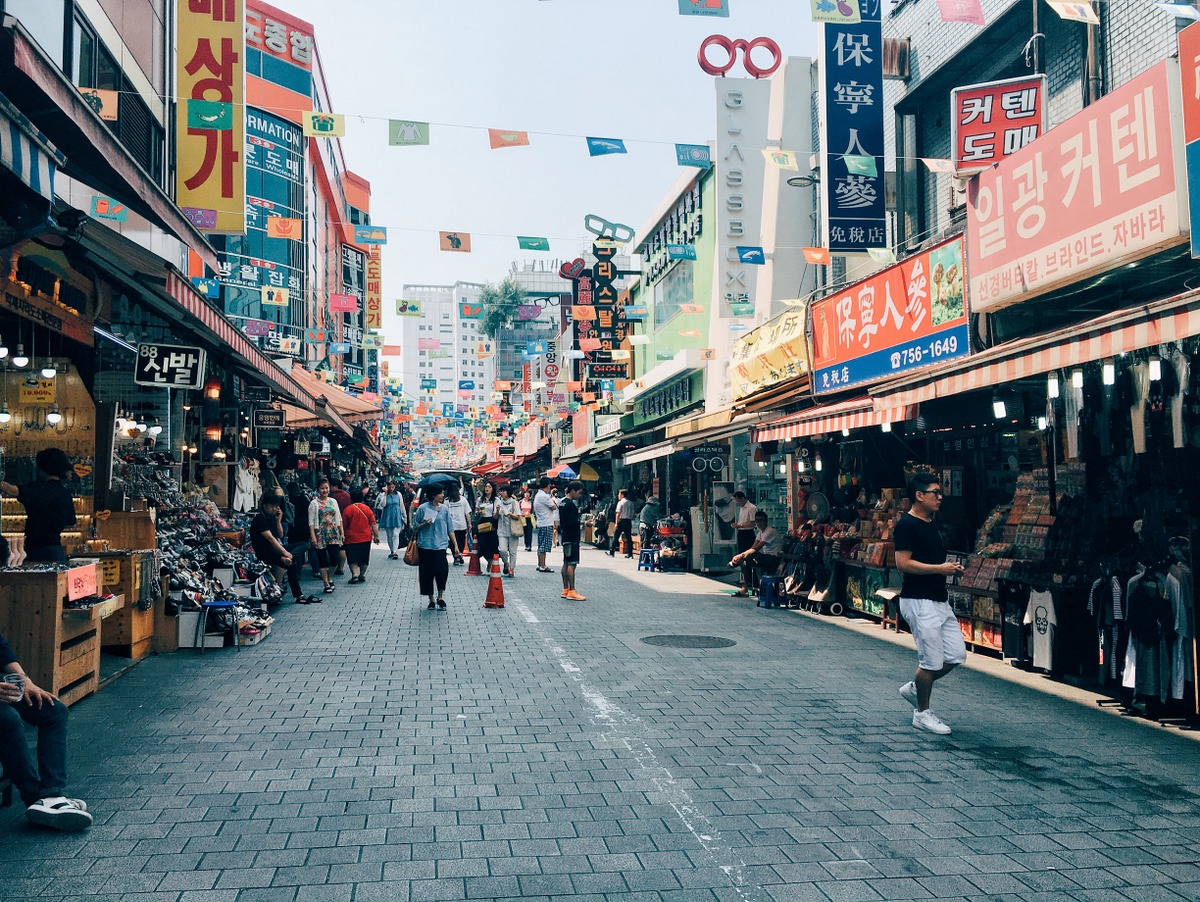 Namdaemun Market is the largest in Korea. It features alleys of shops and street stalls selling clothing, bags, food and souvenirs.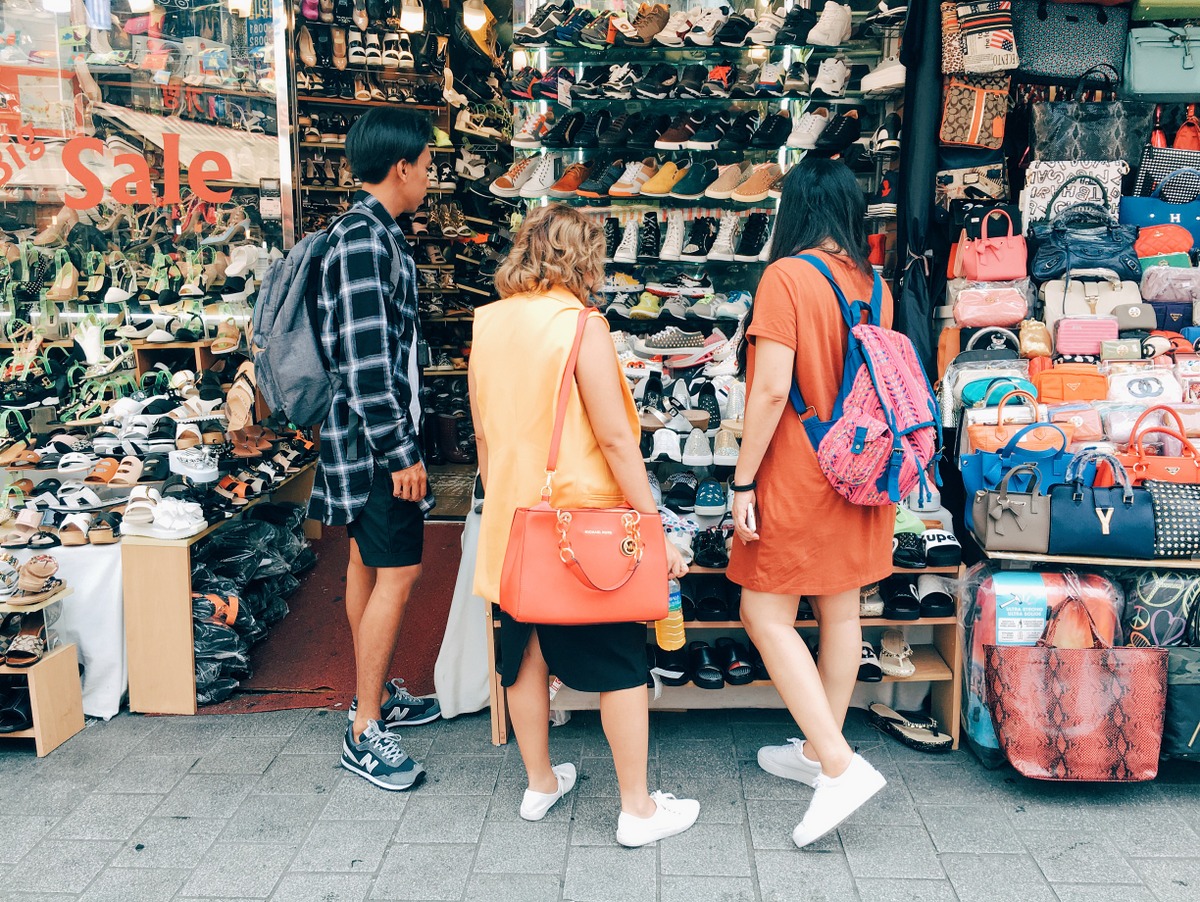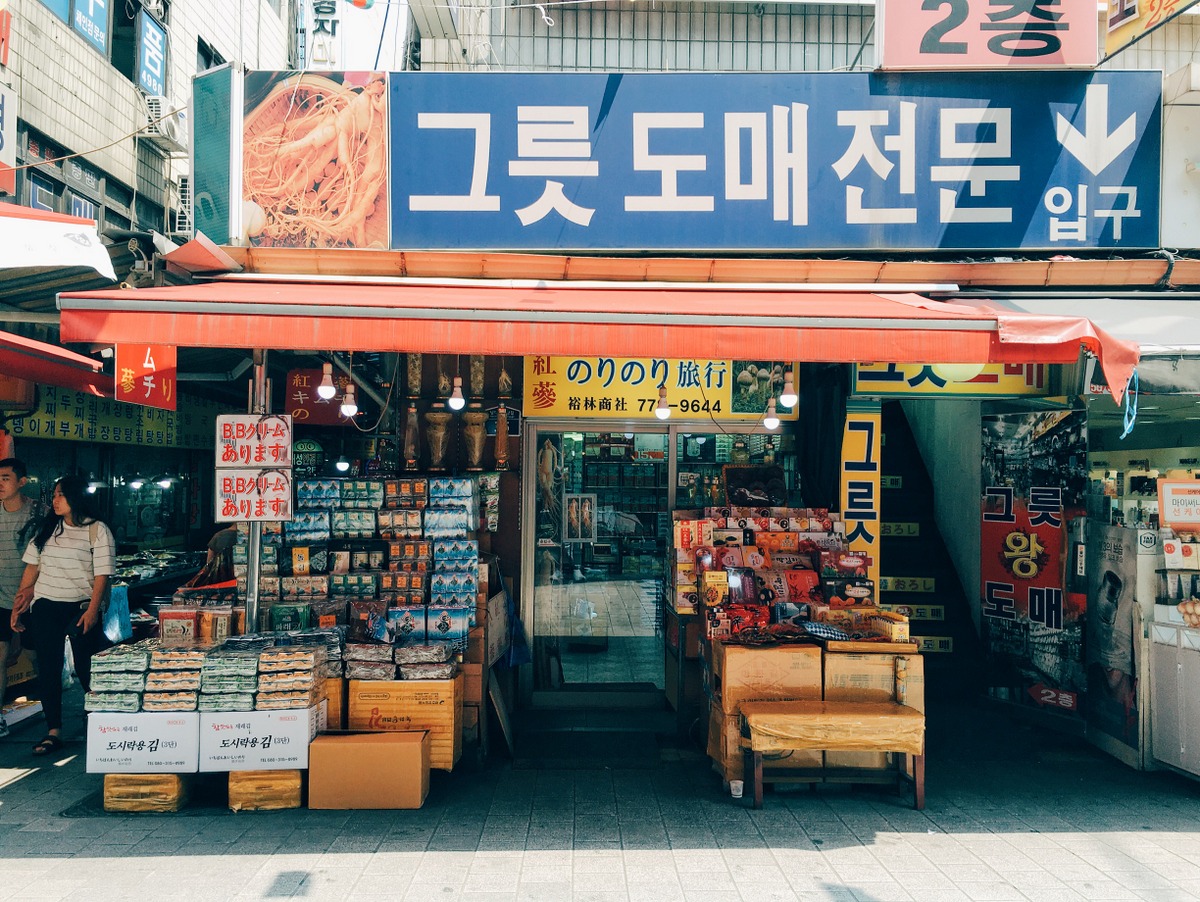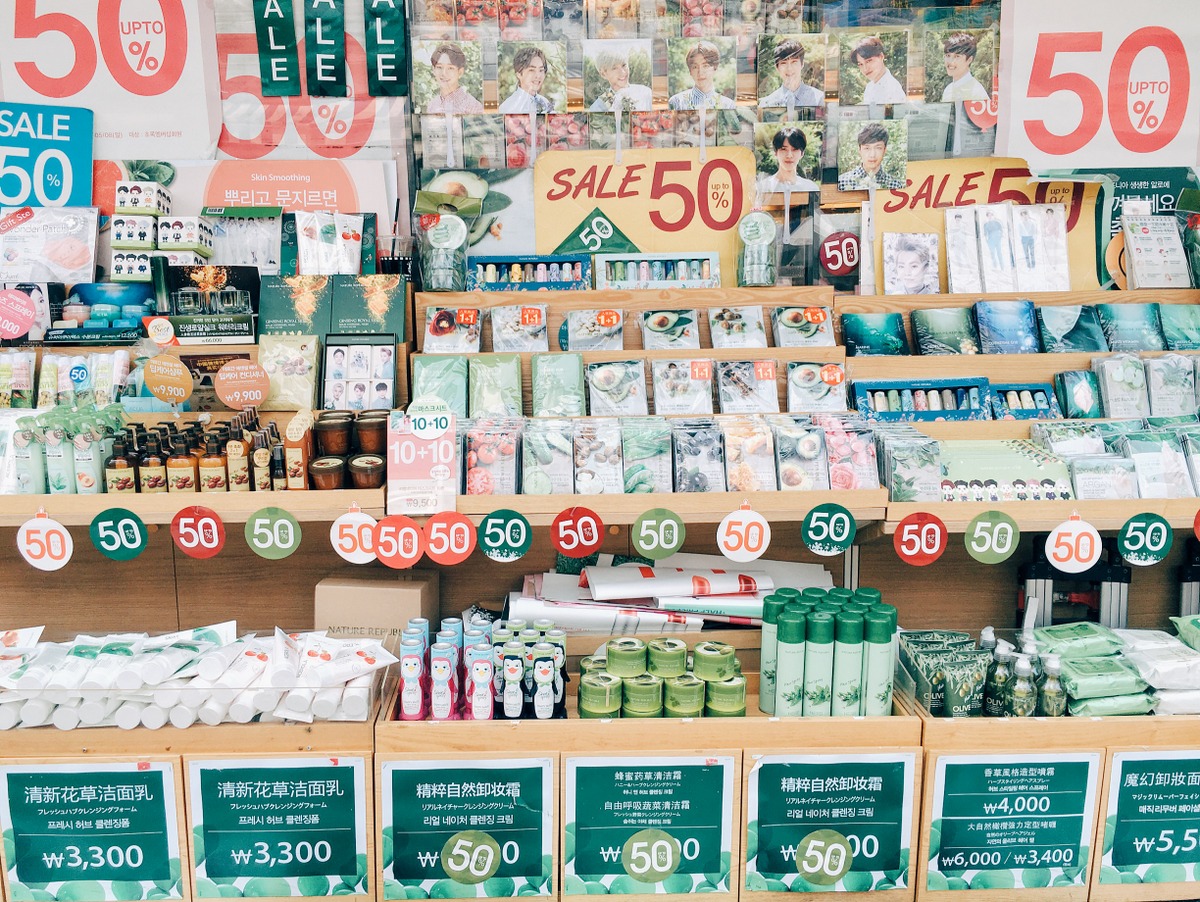 How to get there:
Namdaemun Market is located to the right of Sungnyemun Gate.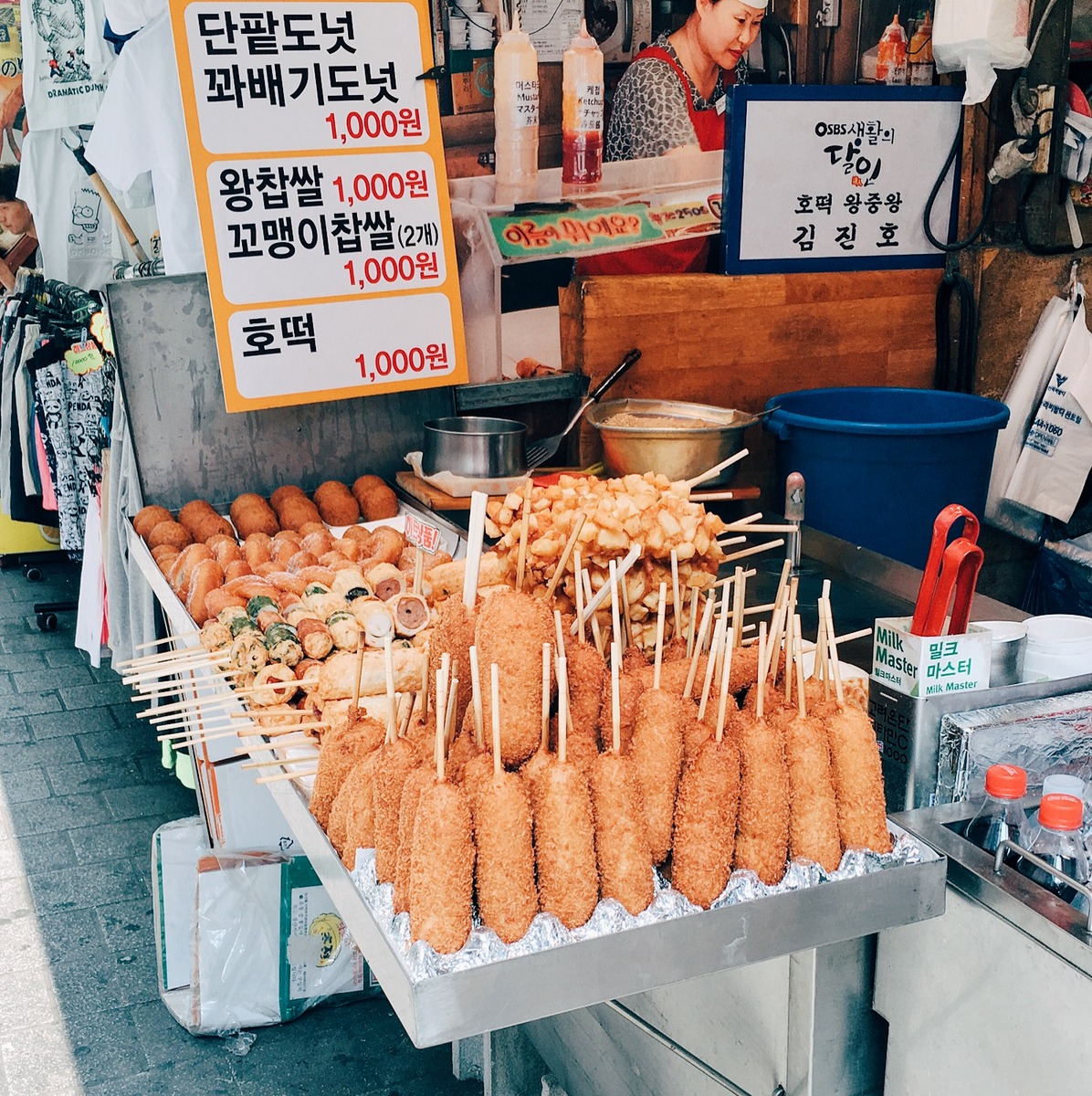 Namedaemun Market is full of food stalls which offers Korean dishes and street food, make sure you try it out.
Seoul Walking Tour Map
My recent trip to Seoul, South Korea was made possible by AirAsia Philippines. Thank you for this wonderful experience. AirAsia Philippines flies directly from Cebu to Incheon, South Korea daily. Visit their website to book your flight.
Here's an exciting news from AirAsia Philippines this July. Get up to 50% discount from the airline's partners in Cebu and Korea from July 1 to August 31, 2016 by simply presenting your boarding pass or e-tickets for flights to/from Cebu and Incheon, South Korea.
Cebu Partners:
Cafe Namoo – 50% discount on your total bill
Cafe Tiala – 50% discount on your total bill
Coffee Bean Scent – 30% discount on beverages
Cafe Talk – 15% discount per item
Sky Experience Adventures – Php50 off on their entrance fee and Php50 off on their rides
KPub BBQ (Cebu and Manila branches) – Get additional 30mins for Php499 and Php699 promo; 20% discount for Ph899 and Php999 promo, and KPub key chains.
South Korea Partners:
Vivaldi Ocean Park – Get 30% discount from July 23 to August 7 and 40% discount from July 1 to 22 and August 8 to December 31.
Saraswati Pub – Get 10% discount on all menu.
You might also be interested:
3 Day Seoul, South Korea Itinerary + Travel Tips
Seoul, South Korea Itinerary – Day 2
Seoul, South Korea Itinerary – Day 3