Updated on August 26, 2016
Primer Group of Companies' Bodega Sale in Cebu
Primer Group of Companies, the company that brought brands like Herschel, Fitflop, Quicksilver and JanSports to the Philippines will be holding a Bodega Sale on August 25 to 28 at the Waterfront Cebu City Hotel and Casino in Lahug.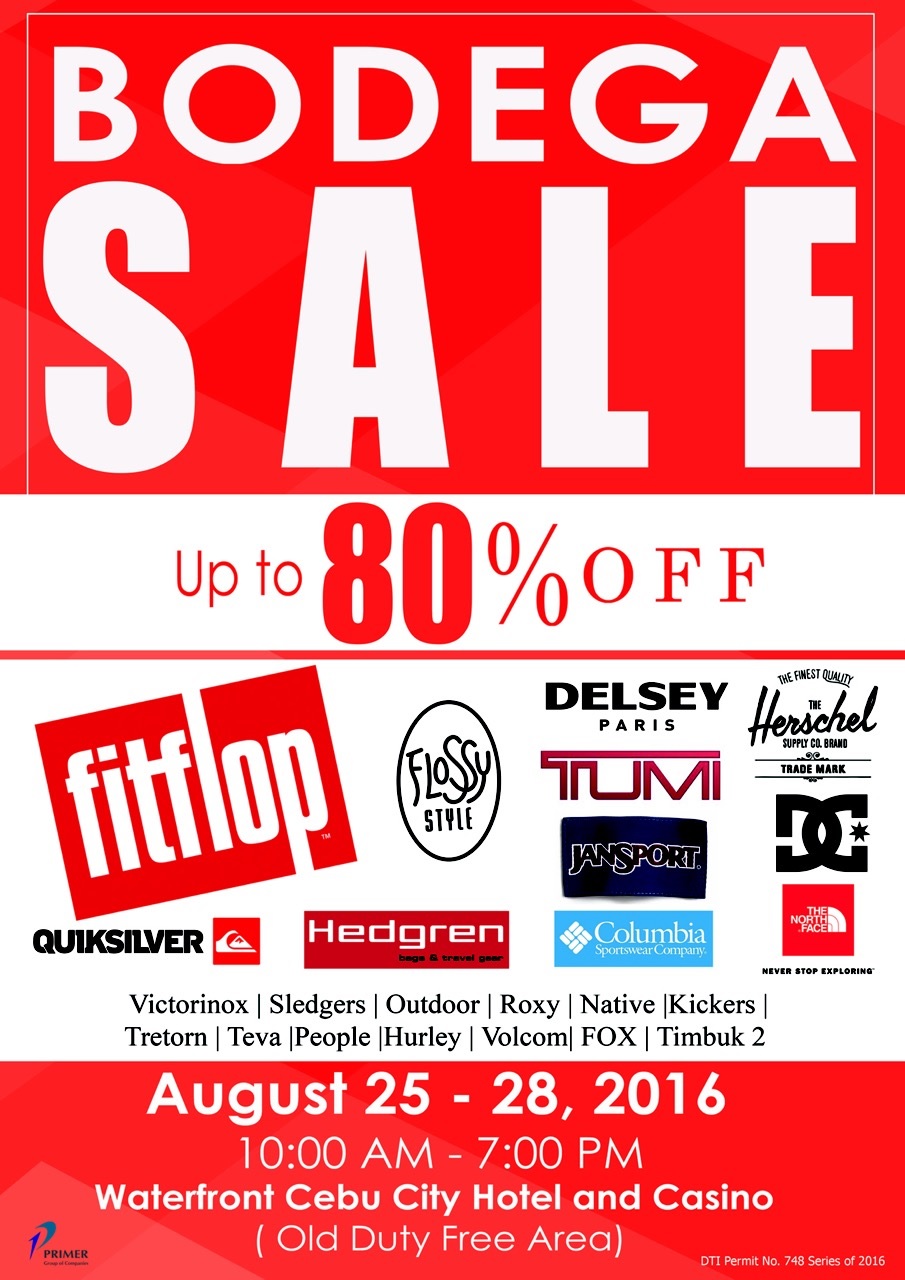 I heard about Primer Group's Bodega Sale in Manila last year and I'm glad that it is finally happening here in Cebu. Score discounts as much as 80% off from brands like Delsey, Flossy, Tumi, Columbia, DC, The North Face, Hedgren, Roxy, O'neill, Volcom and a lot more! Primer Group of Companies has over 200 brands under their wing and who knows your favorite brands will also be part of the sale too.
The Bodega Sale will be open from 10am to 7pm. This doesn't happen every year, the last Bodega Sale in Cebu happened 6 years ago and who knows when will be the next. So come early and bring your friends and family. See you all there!
You may follow hashtags – #PrimerBodegaSale and #BodegaSale2016 on Instagram and Facebook for more details. For inquiries, please call 412-3747.
Update – Aug 25, 2016, 9am
I was invited to the preview of Primer Bodega Sale 2016 and here are some photos of items available.
I was able to buy a Komono watch for only Php1000 originally priced at Php4990 and a pair of Wakai Slip-ons, originally priced at Php1500. Herschel bags are at 50% off and you can purchase a JanSports bag for as low as Php500. Enjoy shopping!
Update – Aug 25, 2016, 7pm
Due to overwhelming volume of crowd who attended Primer Bodega Sale 2016, a number scheme was implemented. Tickets were distributed today for Friday and Saturday schedule. Tickets for Sunday will be distributed on Saturday depending on stocks availability. Please note of the following:
Each ticket is good for only one pax
Each ticket is valid only during the day listed in the ticket
Please visit Primer Bodege Sale 2016 event page for updates.