Flawless is about to turn 16, and that means National Flawless Day is coming up! Every year, during their anniversary, Flawless treats us with promos to help us achieve our face, skin, and body goals. This year theme is Race to Beauty.
Flawless anniversary promo actually already started last November but you can still catch up because all promos last month will be replicated this December.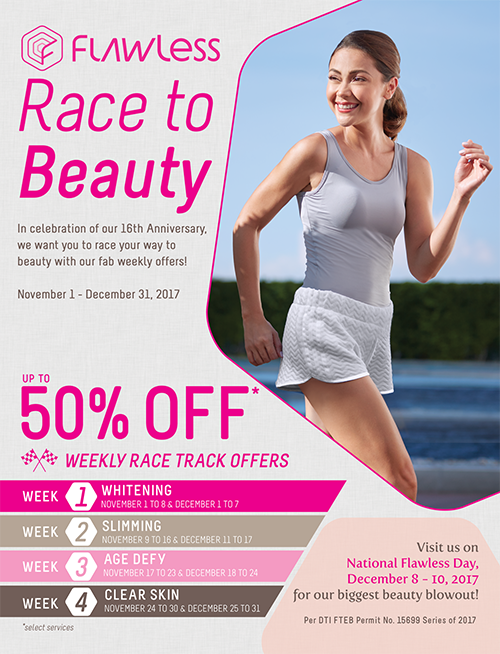 Each week starting November 1, Flawless will be offering deals and discounts up to 50% on popular services on Whitening, Age Defying, Clearing, and Slimming. These services include Facials, Nano Powerpeel, Platium Peel, Easy Peel, and Fractional Needling Therapy for face, Laser Hair Removal, Body Scrub, and Signature Body Peel for skin, and Mesolipo, Cellutite, and Shape & Sculpt for your sexy body goals.
This year, Flawless also launched their Beauty In a Box, a sampler set of Flawless cult favorites from their skincare brand. Beauty In A Box offers Whitening Kit, which includes Flawless Whitening Soap, Flawless Whitening Toner, and Flawless Skin White Therapy Cream for only P499, and Age Defy Kit that has Flawless Collagen Soap, Flawless Facial Toner, and Flawless Age Defy Cream for only P599.
More than the celebration, The Race to Beauty promo and Beauty in a Box are Flawless' ways of thanking its clients and supporters for standing with the brand for 16 years. As Flawless' owner and CEO, Rubby Sy-Coyiuto says, "There are many things we want to thank the public for. One is that our brand relaunch was well-received, next is that we have rolled out our new clinic look, and more Flawless clinics are set to open in a few months." She continues, "But what we are most thankful for is the infinite support that we get from our clients. I know a handful of these Flawless faces have been journeying with us since we first opened in 2001 and that's why we give back each year."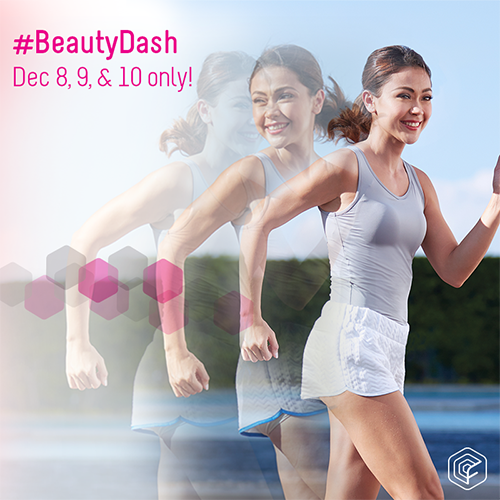 On December 8, 9 and 10, Flawless will be celebrating National Flawless Day. Enjoy HUGE discounts on Flawless products and services, and get freebies with minimum spend. Click here for details on Flawless #BeautyDash
The Flawless Race to Beauty promo runs November 1 to December 31, 2017 in all Flawless clinics nationwide.